Where
The meeting will be held at SPMS, Nanyang Technological University.
The meeting will be held at the School of Physical and Mathematical Sciences at the Nanyang Technological University:
Address:
School of Physical and Mathematical Sciences
21, Nanyang Link
637371 Singapore
View Larger Map
Detail map
How to get there
By conference shuttle bus:
From NUS: We arranged for a bus every morning from 7 to 9 March from NUS to NTU. The bus starts at 8:00am at Science Drive 4, between building S12 and the University hall.
From SUTD: There is also a shuttle bus from SUTD to NTU, every morning (starting time 8:00am. Bus pickup location is on Somapah road near the main entrance.
Return from SPMS: We were able to arrange for return busses from NTU to NUS and SUTD on Thursday at 8:30pm, and on Friday at 2:00pm starting from this location.
By MRT/bus:
Take the East-West line to Boon Lay Station or Pioneer Station. Board SBS 179 or SBS 179A (from Boon Lay Station only) going in the direction of Nanyang Technological University. Drop off at the bus stop just after Hall 7 or at the bus stop outside the Innovation Centre.
By Car: Get on the Pan Island Expressway (PIE) heading towards Tuas. Take the Pioneer Road North exit and turn right onto Pioneer Road North, which meets Nanyang Crescent. Turn left onto Nanyang Crescent, and keep going straight until you have passed the Innovation Centre. Turn right onto Nanyang Link. The car parks that are within walking distance of the SPMS Building are marked in magenta.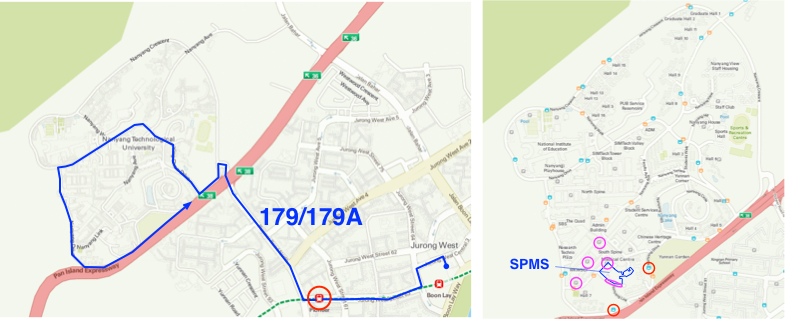 By Google: Just follow link...